Girls of Little Hope
A chilling tale of monsters, teen angst and small-town America for fans of Stranger Things, The Thing, and the 1990s.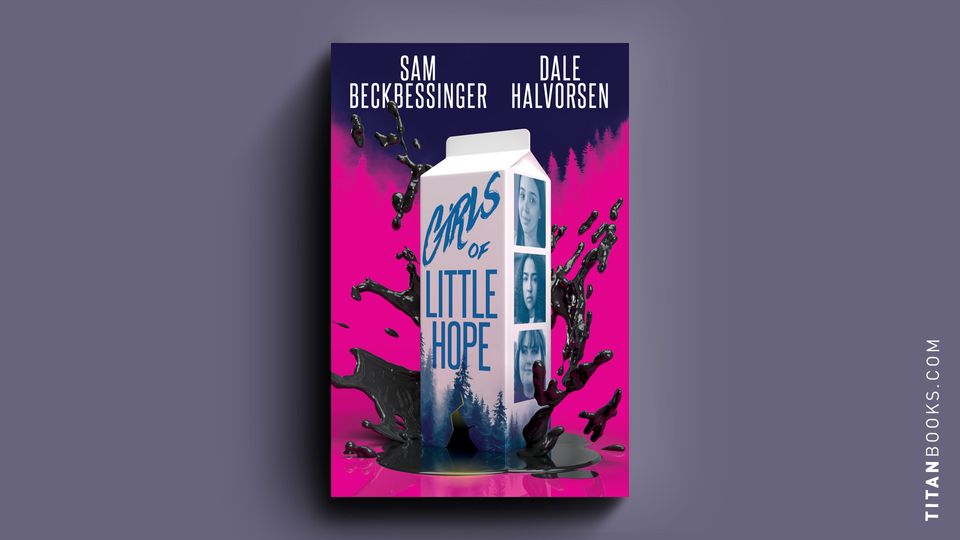 "Sharp as a DIY-piercing, with a fierce punk heart - I loved the hell out of this" - Lauren Beukes
Three girls went into the woods. Only two came back, covered in blood and with no memory of what happened. Or did they?
Being fifteen is tough, tougher when you live in a boring-ass small town like Little Hope, California (population 8,302) in 1996. Donna, Rae and Kat keep each other sane with the fervour of teen girl friendships, zine-making and some amateur sleuthing into the town's most enduring mysteries: a lost gold mine, and why little Ronnie Gaskins burned his parents alive a decade ago.
Their hunt will lead them to a hidden cave from which only two of them return alive. Donna the troublemaker can't remember anything. Rae seems to be trying to escape her memories of what happened, while her close-minded religious family presses her for answers. And Kat? Sweet, wannabe writer Kat who rebelled against her mom's beauty pageant dreams by getting fat? She's missing. Dead. Or terribly traumatised, out there in the woods, alone.
As the police circle and Kat's frantic mother Marybeth starts doing some investigating of her own, Rae and Donna will have to return to the cave where they discover a secret so shattering that no-one who encounters it will ever be the same.
Buy the book
You can buy the book at any bookshop. I encourage you to support your local indie.
Buy the book in South Africa
Buy the book in Australia/New Zealand
Praise for Girls of Little Hope
"A riot (grrl) from start to finish, GIRLS OF LITTLE HOPE is the creepy 1980s true-crime-meets-STRANGER THINGS book of your dreams. Beckbessinger and Halvorsen have a deft way with character, and all their protagonists stay heart-achingly relatable right up to the gruesome I-can't-believe-they-went-there climax. A real joy of a story." - Ally Wilkes
"A dark, strange, and joyful book about sticking by your best friends in the face of a monstrous world." - Sam Humphries
"Girls of Little Hope is a tremendously confident, thrilling debut… I stayed up all night to finish it" - Alex de Campi
"Funny, uncanny, rich with dark nostalgia. Girls of Little Hope lures you deep into the woods, switching up the trail of breadcrumbs so you never quite know if you're getting closer to safety, or nearer to the truth. A comfortingly creepy reminder that friendships are the greatest adventure, and that we're never in this alone." – Dr Nechama Brodie
"A perfect blend of small-town angst and creeping horror that hits on a cellular level. Irreplaceable friendships meet unstoppable forces in a brilliant novel that gives you a hug but then gets its hooks into you. A dark shard of genius from two uniquely-talented minds." – Charlie Human
"Girls of Little Hope is an absolute gem: vivid, vibrant, convincing and captivating. It's as wonderful, horrifying, and emotionally gripping as being a teenager." - Sam Wilson
"Twisty and clever, it grips you from the first page and doesn't let you go. This book kept me up at night, for all the right reasons." - Jen Thorpe
---
Freebies
A very 1996 RiotGrrrls playlist
Listen to a playlist of songs that inspired the novel, featuring all of Donna, Rae and Kat's favourite Riotgrrrls.
---
Content warnings
The book contains scenes which some readers might find distressing or triggering. Please do not read the book if any of this is going to be unhealthy for you.
Overall, there is a fair amount of gore and body horror in the novel. Characters are killed, mutilated, and there are some descriptions of decomposing bodies.
Important: there is a scene which depicts self-harm in some amount of detail.
There is a graphic depiction of the death of an animal.
One of the characters confronts severe fatphobia.
There are several depictions of homophobia, sexism and religious trauma.
There are depictions of the death of a parent.
There is a depiction of sex.
There's plenty of swearing.
There are moderately detailed descriptions of intimate partner violence.
There are minor mentions of sexual violence against minors.
There is a minor depiction of alcoholism.
There are minor mentions of drug use.
There are mentions of pregnancy and abortion.
There are mentions of parasitic worms, fungi, insects and rot.
Warnings will continue to be updated as necessary – if there is anything you feel should be added, please let me know!