Survive the Century - now in book form!
Exciting news for fans of interactive stories, jokes, and stories about the future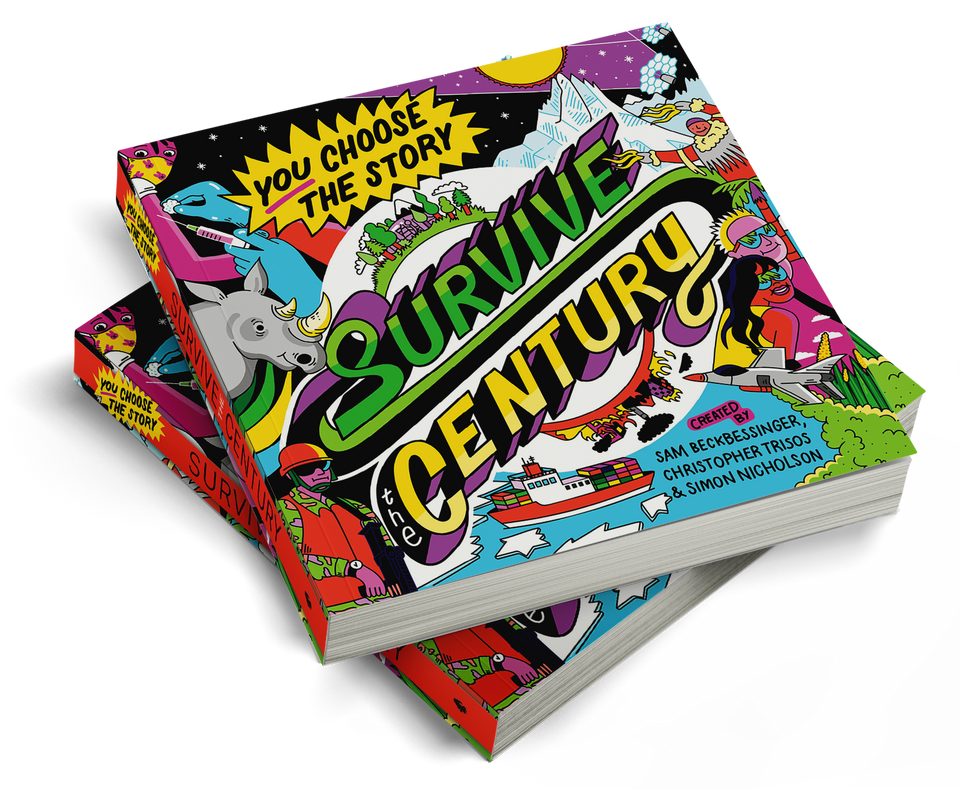 Hi buds :)
Remember Survive the Century - our funny, science-informed interactive story about the future, where YOU choose how humans respond to the ravages of climate change up to 2100?
WELL...
I'm EXTREMELY THRILLED to tell you that Survive the Century is now available as a gorgeous collectible book that you can hold in your hands, or place conspicuously on your coffee table. You can even leave it to your children, and it will almost certainly be around in 2100.
It's awesome because:
The interactive format ("YOU choose the story") means it's extremely fun to flip back and forth to see how different decisions would have worked out.
It features delicious full-colour illustrations by Annika Brandow and news stories from the future written by leading sci-fi writers like Lauren Beukes, Rajat Chaudhuri, Maria Turtschaninoff and Sophia Al- Maria.
It was co-created by an entire panel of world-renowned climate scientists and sci-fi writers - basically, the Climate Change Avengers.
It's an ideal gift for teens and young adults who are passionate about climate change, a coffee-table conversation starter for older adults looking for more hopeful climate fiction, and an engaging tool for educational contexts.
The best way to buy the book is to order it from your local bookstore (anywhere in the world), or find it here.
Any profit we make is being funnelled right back into expanding the project (translations, and donations to libraries and schools).
"Spiky and provocative and hugely fun." - Lauren Beukes
Survive the Century is an interactive story that positions you as the senior editor of the world's most popular and trusted news organisation. You have the enviable power to set the news agenda, and thereby shift the zeitgeist. What if you invest in green technology and cut taxes? What if you rewild half of the world's agricultural land? What if you unleash your inner supervillain and spark WWIII? What if you block out the sun (just a little bit)?
The online version of the story was launched in 2021, has already been read over 20,000 times, and was featured in publications like New Scientist, Gizmodo and Stories for Earth.
"A sneaky-simple game that makes our climate choices real." - Brain Kahn, Gizmodo
I'm deeply grateful to Electric Book Works, the University of Cape Town, American University, and the National Socio-Environmental Synthesis Center (SESYNC) for making the book edition possible. Lauren Beukes, Rajat Chaudhuri, Maria Turtschaninoff and Sophia Al-Maria were so generous to allow us to include the hilarious, brilliant, strange stories they wrote in this edition. This is my first experience in self-publishing, and yoh it was hard, but it would have been 7-billion times harder without the heroic efforts of Arthur Attwell, Klara Skinner, Louise Steward, Lauren Ellwood, Mélissa Godin, Annika Brandow, Chris Trisos and Simon Nicholson. You're all champs, thank you!
Giant squeezes
Sam