Schemes and Scams
A list of money making schemes and scams that we think you should avoid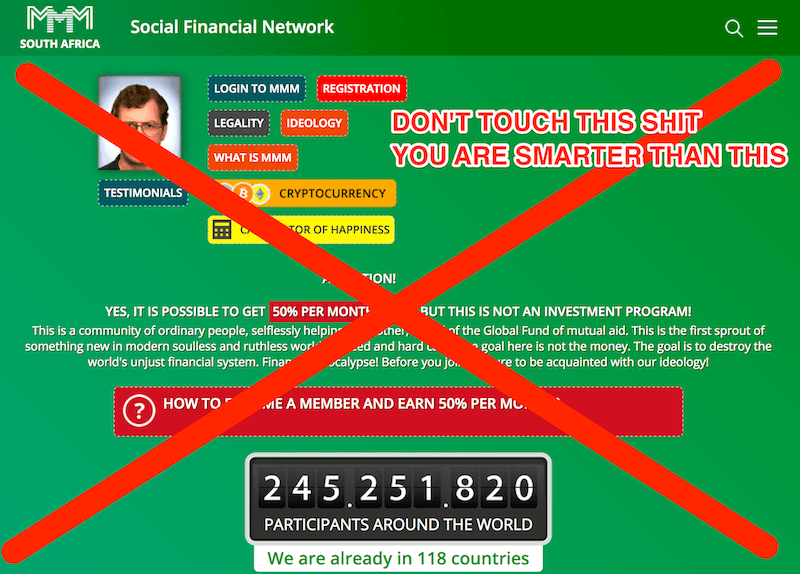 There's no way to get rich quick, but there are a hundred ways for people to lose everything because they try to. Here's our list of money making schemes and scams that we think you should avoid, because we don't want you to lose your hard-earned moolah.
We will not link to any of these sites.
Under investigation
These schemes are being investigated by the South African National Consumer Commission, because they might be pyramid schemes. Avoid them.
Mirror Trading International
MMM
Kipi AKA Mydeposit241
Direct Direct Intervention Program to Empower South Africans (Dipesa)
Instant Wealth Club
Make Believe
NMT Investments
Sikhese
Wealth Creation Club
WorldVentures
Gross MLM businesses
These are highly suspect multi-level marketing businesses that are more about you selling the opportunity become a salesperson, than about selling the actual product. These businesses are (probably) not actually illegal, but I want you to stay away from them please because I love you and I don't want you to lose your friends and money.
Clientèle Life
Amway
WorldVentures
Herbalife
Mannatech
Avon
Nu-Skin
Agel
Bitcoin and schemes
Bitcoin schemes are all the rage these days. There are so many popping up every day it can be hard to keep track, but here's a good article about how to identify a Bitcoin scam.
Got any tips?
Know of any other dodgy or suspect schemes or scams? Let us know in the comments and we'll investigate.