RSS and other horrors
RSS readers, live events, and some delicious books.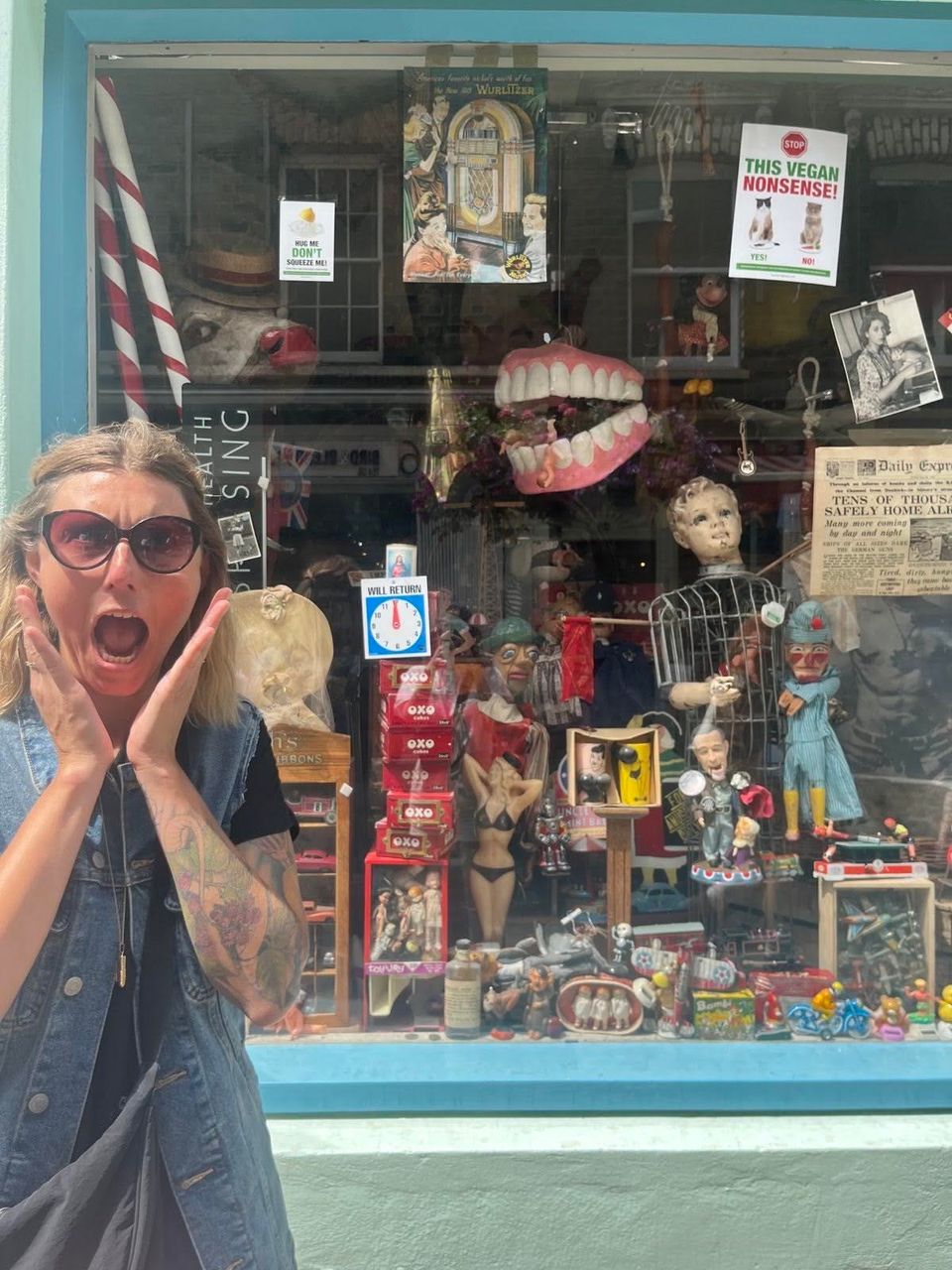 Hello loves!
I aten't dead. It's London summer, which has been a blur of Aperol Spritz, cycling adventures, rooftop raves, and... well, endless rain. It is England, after all. I've been working on Snarltooth (my second novel), planning the launch of Moving to the UK (24 August), and having some delicious chats about Girls of Little Hope.
Here are five quick things which have been on my mind.
1. Girls of Little Hope Easter Eggs
One of the tastiest GOLH conversations Dale Halvorsen and I had recently was a discussion with dear friend Jon Keevy for Zarnia Games & Geekery. Jon is a fellow nerd and fiction writer, so we really get into the weeds about the mechanics of plotting twists, why we chose the format of a novel rather than a comic book, and some of the easter eggs we hid for our friends to find.
Watch it here. We're planning a follow-up SPOILERY chat where we talk about THAT THING, the ending, and that other thing with the thing, so subscribe to Zarnia to hear when it's out :)
2. Streams versus inboxes
I will never entirely get over the mad belief that the only thing standing between me and pure productivity bliss is finding exactly the right set of apps. Yes, I understand that this is utterly delusional! But still, nothing's more thrilling for me than the sweet sweet high of getting a brand new workflow in place, which feels like it's going to solve all my problems and give me meaning in life.
So, let me tell you about the recent magical-app-that-I'm-sure-will-fix-me: Readwise.
I've been feeling a bit overwhelmed, in recent months, not so much dropping balls as throwing them into the propellers of a jet engine, cackling. One of the reasons for this, I've realised, is that I've been misusing my email inbox, simultaneously expecting it to act as a to do list and a stream of content I might like to read if I get a moment (and I never get a moment).
I blame Substack. Or rather, I blame the collapse of traditional business models for journalism, and whatever the heck is happening with social media, which have led many of my favourite writers to start publishing their own excellent newsletters. This has led to the situation where I'm getting like 6,000 emails a day, most of them newsletters (yay) or marketing mails from shops I bought like one spatula from, four years ago, and haven't bothered to unsubscribe from (boo). An untenable situation.
Enter: RSS. Or rather, re-enter, since this retro technology is what all us productivity geeks were using a decade ago. RSS, for those of you born after 1995 or who have more interesting hobbies than trying out productivity apps, is a way for you to subscribe to a bunch of different websites and see all the new updates in a single reader app. It's like an inbox, but just for stuff you want to read from the internet.
Readwise Reader is my favourite one, right now. You can use RSS to subscribe to your favourite publications (including Substacks), or add any web page (or PDF) with the click of a button. You can also automatically sync your comments and highlights to your notes app of choice (Obsidian, Evernote, Notion) if that's the flavour of nerd you are.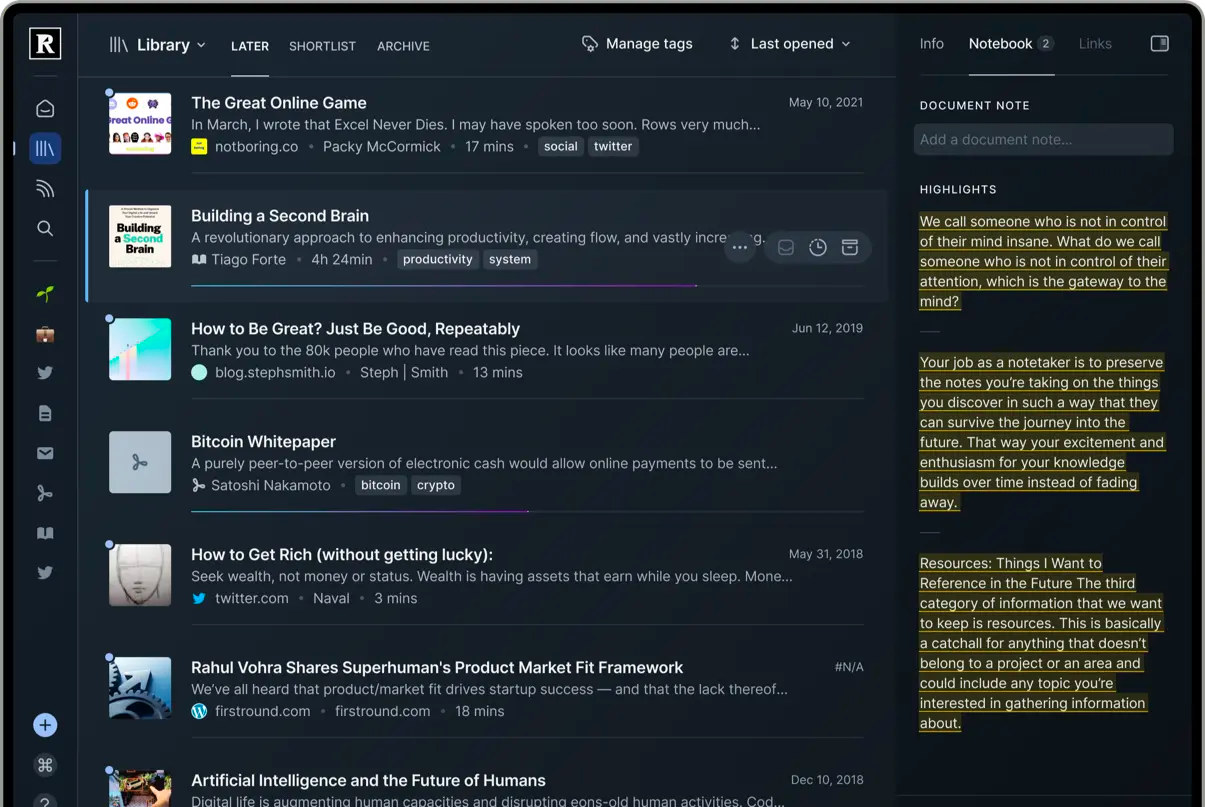 In fact, it's better to NOT think of it like an inbox (with that dreaded "unread" counter subtly scolding you) but rather like a stream of content you can dip into as you wish. An information buffet. An algorithm-free Twitter account, only not run by a petulant billionaire manbaby from Tshwane.
I've found it's already helping me to feel a little less like I'm drowning in "shoulds".
Readwise Reader is not free, but it's worth it if you read a lot of internet and have some kind of personal knowledge management system you like to take notes in. If you're after a simpler free alternative, try Pocket or Instapaper.
If you want to subscribe to this newsletter over RSS, by the way, here's the link: https://www.sambeckbessinger.com/rss/
3. Recent reads
I have read so many wonderful books recently! The highlights:
Adult books
Children's books
Nell Plants a Tree - a gorgeous picture book by Anne Wynter and Daniel Miyares about a girl who plants a tree which grows through her life, and then her childrens', and then her grandchildrens'. It's a tender story featuring a Black family with a home passed through generations, something which has particular poignancy in many parts of the world, and definitely in South Africa.
A Wizard's Guide to Defensive Baking by T. Kingfisher, a whip-smart and hilarious teen book about a 14-year-old wizard who can only perform magic on baked goods, trying to figure out who's killing all the magical people in the kingdom. Her familiar is a sentient sourdough starter and she enchants gingerbread men to do her dirty work. I adored this.
Dashe Roberts' Sticky Pines series, a spooky, action-packed, pun-filled four-part series for your age 9+ fans of Gravity Falls and Stranger Things (and 36 year olds named Sam). There are plucky teen heroes, twisty mysteries, subtle environmental themes, and many excellent jokes.
4. "Undercurrency" in translation
"Undercurrency", my short story about love and kelp farming, has been included in the Bengali anthology Chiaroscuro Tales: Contemporary African Speculative Fiction, edited by the wonderful Wole Talabi and Debjyoti Bhattacharya, translated by Amit Debnath. One of my favourite translators, Ken Liu, said that, "Translation is an act of recreation," and I'm honoured that my work was chosen to be recreated.
You can read the English version here.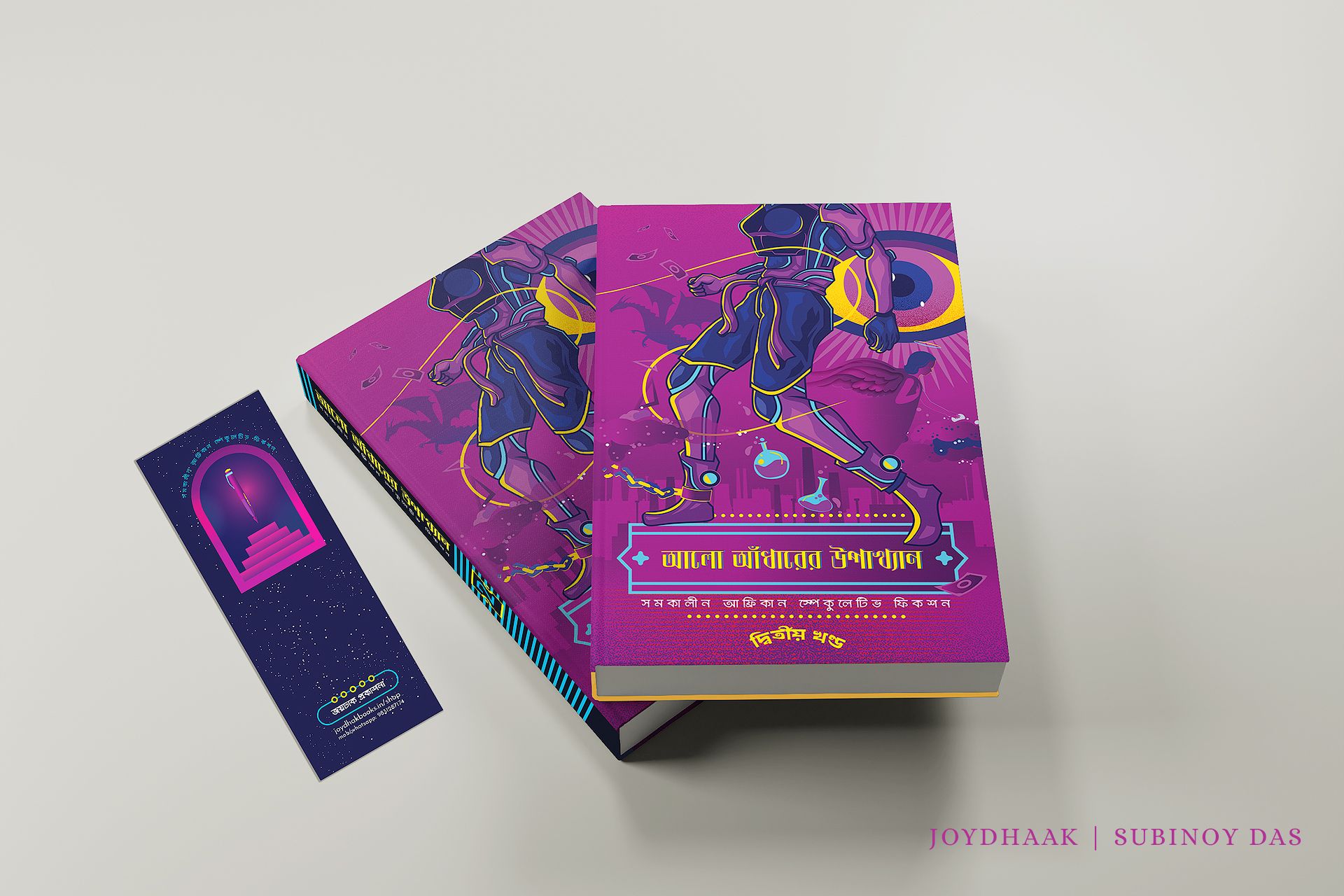 5. Events!
Wanna hang out IN REAL LIFE? I do!
Newcomers to the UK (people who've moved to the UK from another country and are desperate for friends), come join me at a summer picnic in London to meet other newbies! RSVP here.
Capetonians, I'll be visiting your beloved shores for South Africa's best literary festival, Open Book. You've got three events to choose from:
Dale Halvorsen and I talking collaborative writing with Qarnita Loxton & Gail Schimmel.
Joining Sven Axelrad and Busisekile Khumalo in conversation with Daniella Djan about complex friendships.
And, TO MY HORROR, trying to make you all laugh with some writing improv, along with Diane Awerbuck, Sara-Jayne Makwala King, Wanjiru Koinange, Bongani Kona and Mohale Mashigo (who are all much funnier than I am).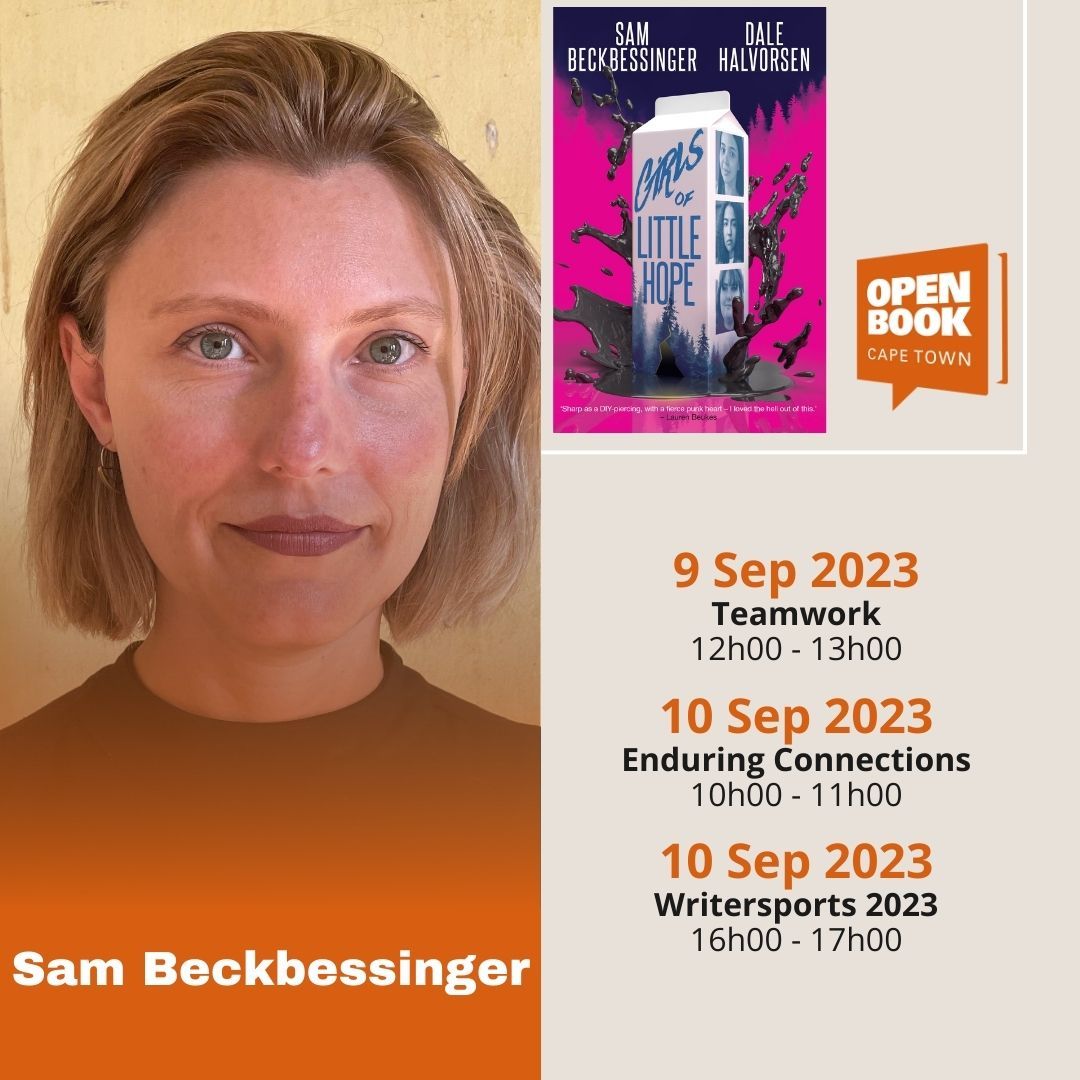 Joburg, don't feel left out, I'll be visiting you in late September! Still finalising the details, but I'll definitely be at Comic Con Africa.
I hope to see many of you in the real world soon. In the meantime, I'm wishing you sunshine and a productivity app to solve all your problems.
Love,
Sam.