How to build a cold-weather wardrobe from scratch
Adjusting to living in a cold country for the first time? Here's everything I've learned about staying warm on a budget.
The fun (but also exhausting) thing about moving countries is that suddenly you don't know how to do the most basic things: how do you catch a bus? Find a plumber? Buy groceries? Dress yourself?
A year ago, I moved from a hot and dry country (South Africa) to a cold and wet country (the UK) and discovered that my previous clothing strategy (entirely based around cute jumpsuits) wasn't going to work any more. The day I left South Africa in January it was 36 degrees celsius. I landed in England and it was 5. FIVE DEGREES CELSIUS. I thought I was going to die of hypothermia.
Being essentially cold-blooded and unable to generate my own body heat, I coped with South African winters by spending the whole day moving from sunbeam to sunbeam like a lizard. Alas, winter sun in the UK is about as common as rusks in their supermarkets, so building a cold-weather wardrobe became an urgent priority.
Here's what I learned, in case it's helpful to fellow cold-country immigrants!
Your mileage may vary
Some specifics about me that might be different for you:
I moved to Cambridge, which is not really very cold by cold-country standards (but trust me, if you're from South Africa, it is COLD). It rains a lot, but only snows maybe one day a year.
I'm a cheapskate. You can spend an infinite amount of money buying clothes. But I'm going to assume you want to keep costs low if you just moved to a whole new country.
I mostly wear femme-inclined clothing. Most of this will apply to people who dress on the masc end of the spectrum, though.
I'm a writer, which means that I will never need to go to an office (even in non-pandemic times) and don't need to impress anyone except my cat.
This is a strategy in case you're feeling lost, but it's probably not the right strategy for everybody!
Focus on what you really need
In time, you might want to add a bunch of cute wintery clothing to your life. But at the beginning, focus on buying the core basics that will get you through most situations. Focus on versatility, warmth and insulation.
You'll get the most bang for your buck by focusing on the inner-layer (thermals that live right against your skin) and the outer-layer (jackets). Use the clothes you already own as the mid-layer. This means, at first, don't worry about buying warm jumpers/sweatshirts/hoodies/pants/dresses etc. These things can come later.
For the basics you buy, err on neutral colours (these things are supposed to augment your existing wardrobe rather than replace it) and pay close attention to the fabric they're made out of. Wool, silk and fleece are great insulators. Cotton does a fine job if it's thick and well-constructed.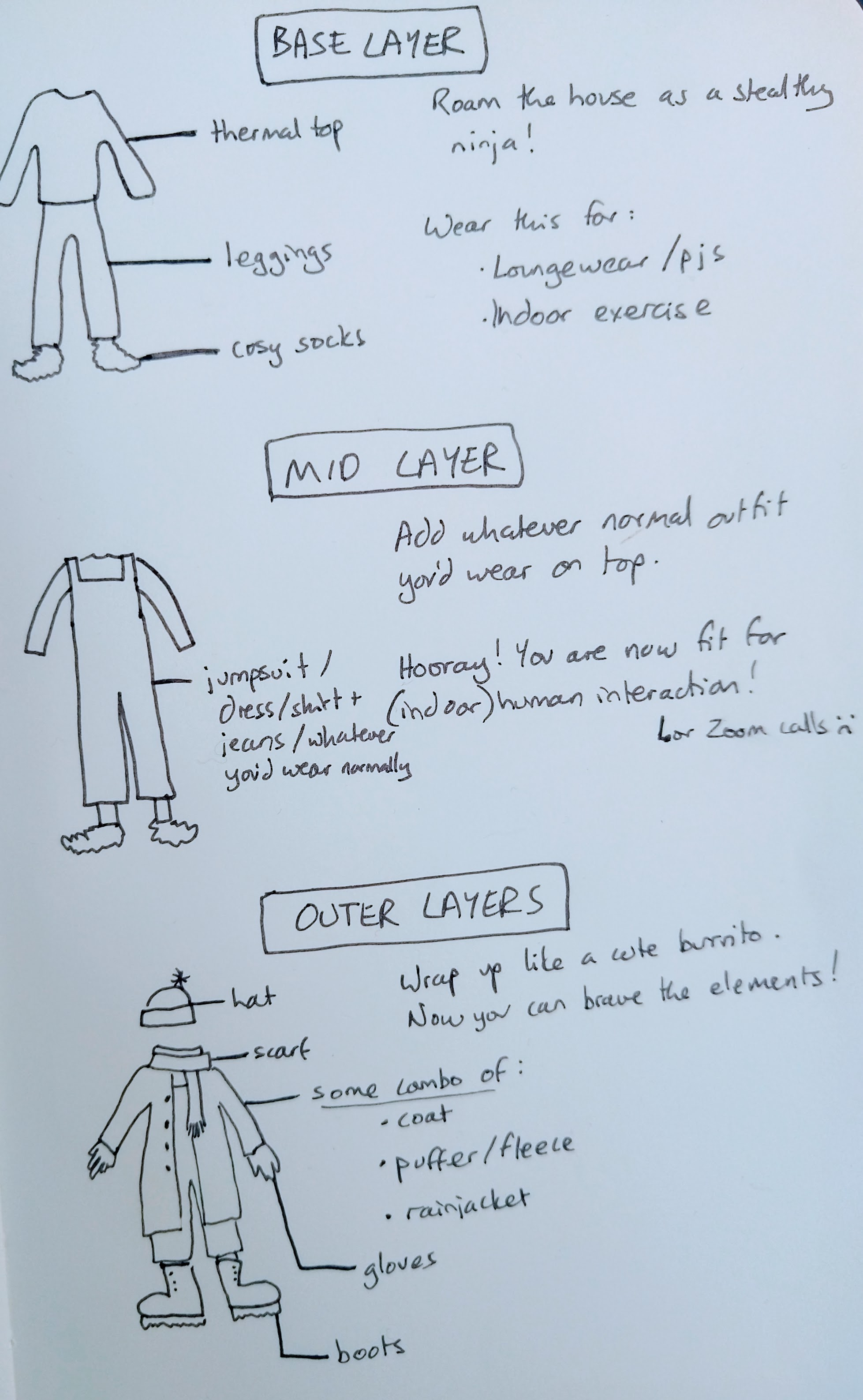 I'm going to take you through these essentials one by one. I'll use Uniqlo to show you examples of what I mean because it's a range I'm familiar with, but I don't necessarily recommend buying everything there (we'll consider the budget and shopping strategy at the bottom).
Outer wear
The thing that's going to cost you the most money is a coat, so let's start here. Because you are starting from scratch, you want to get something that will cope with the widest range of bad weather.
When I landed, I was absolutely freezing and I panicked, and I bought myself a single "everything" coat. It's waterproof, hooded, wind-proof and warm as heck. You could wear this thing to the Arctic and not be cold, and I love that damn thing to pieces. It's what got me through my first winter with my sanity intact. I bought it from Uniqlo. They don't stock them any more, but I think it cost about £150. My strategy was, "let me prepare for the worst the weather can be, and I can always just wear it over light clothing on warmer days".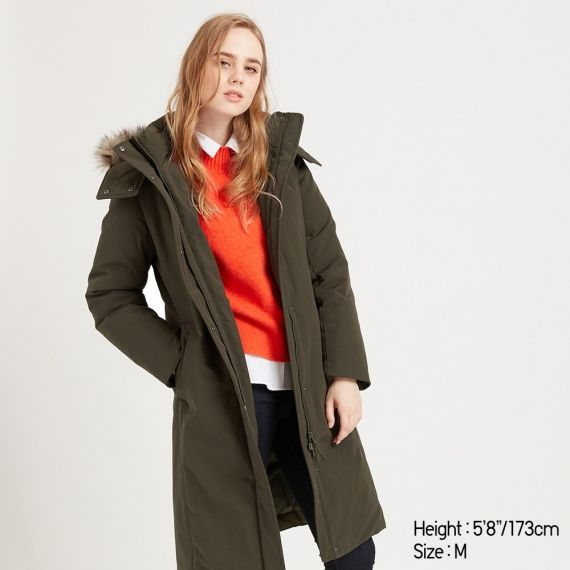 I definitely don't regret buying this coat, but it's not actually the solution I'd recommend for other people moving to the UK.
Here's the issue with something this thick: it's not adaptable. It's far too heavy to go running or hiking with. It's not quite formal enough for days when you need to be a bit more dressed up. It's also total overkill for most UK weather, where it's more often wet but not actually that cold. So if you buy a coat like this, you'll end up ALSO wanting to buy additional outerwear, which means you'll spend more overall.
Instead, I recommend a three-layer outwear strategy, consisting of:
A waterproof layer.
A windproof and fancy layer.
A warm layer.
Make sure that your windproof option and your waterproof option are both longer than your warm option, because you need to be able to wear it underneath either of the other layers.
The waterproof layer
Must have a hood.
Must NOT be very warm. You want to be able to slip this on to go for a run or on a warm, wet day, or wander around town for several hours without wanting to die of heat.
A bonus would be for it to also be reflective. If you'll be cycling or walking, it's good to have extra visibility for safety.
As an example, this pocketable hooded parka costs £25 from Uniqlo. Ideally, I think you'd want something sliiiightly longer, like an anorak, but this is roughly what you're looking for.
Can be a pretty wild colour if you like, because you're never going to be wearing it indoors.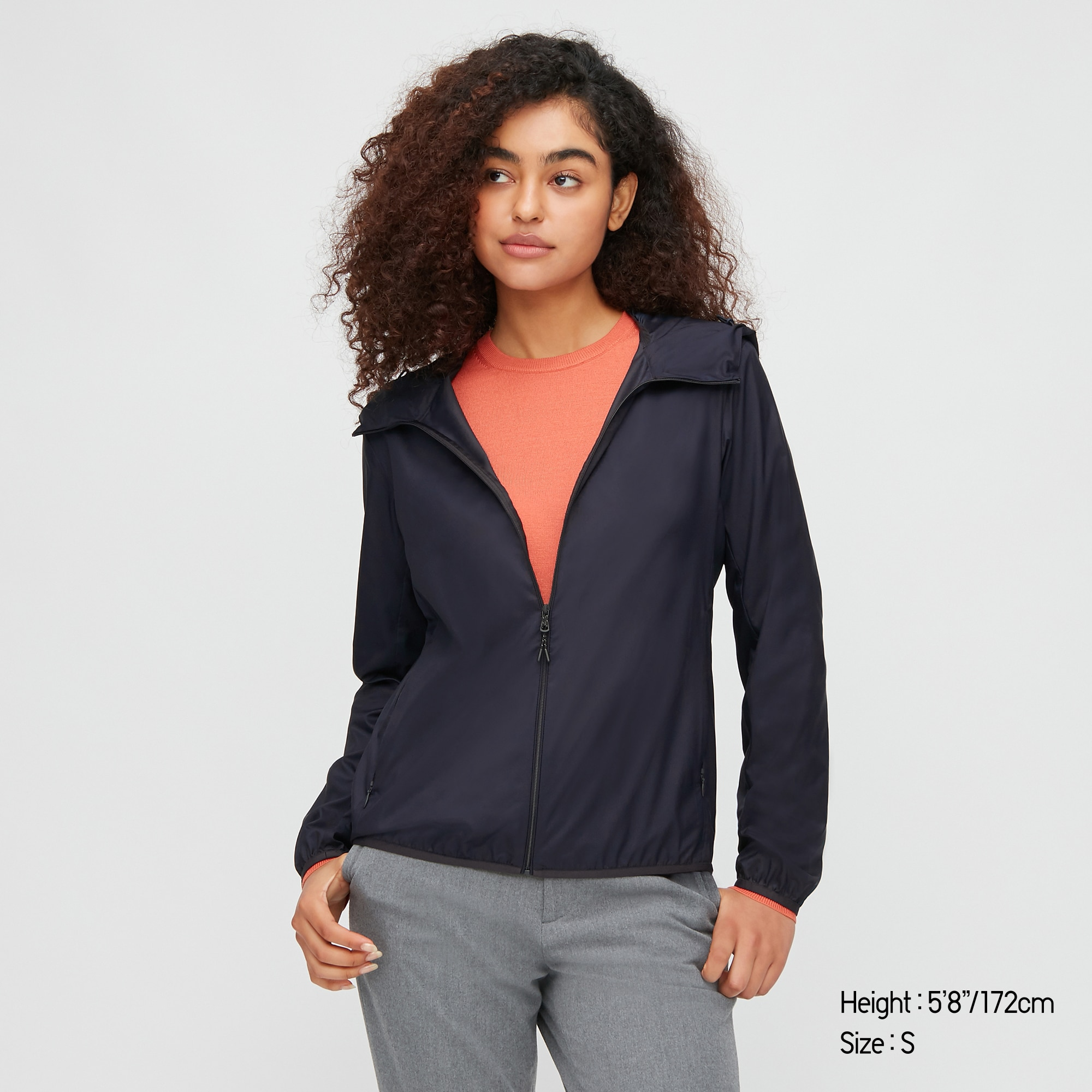 You could also try something longer like this £59 thing, if you're unlikely to go running in it.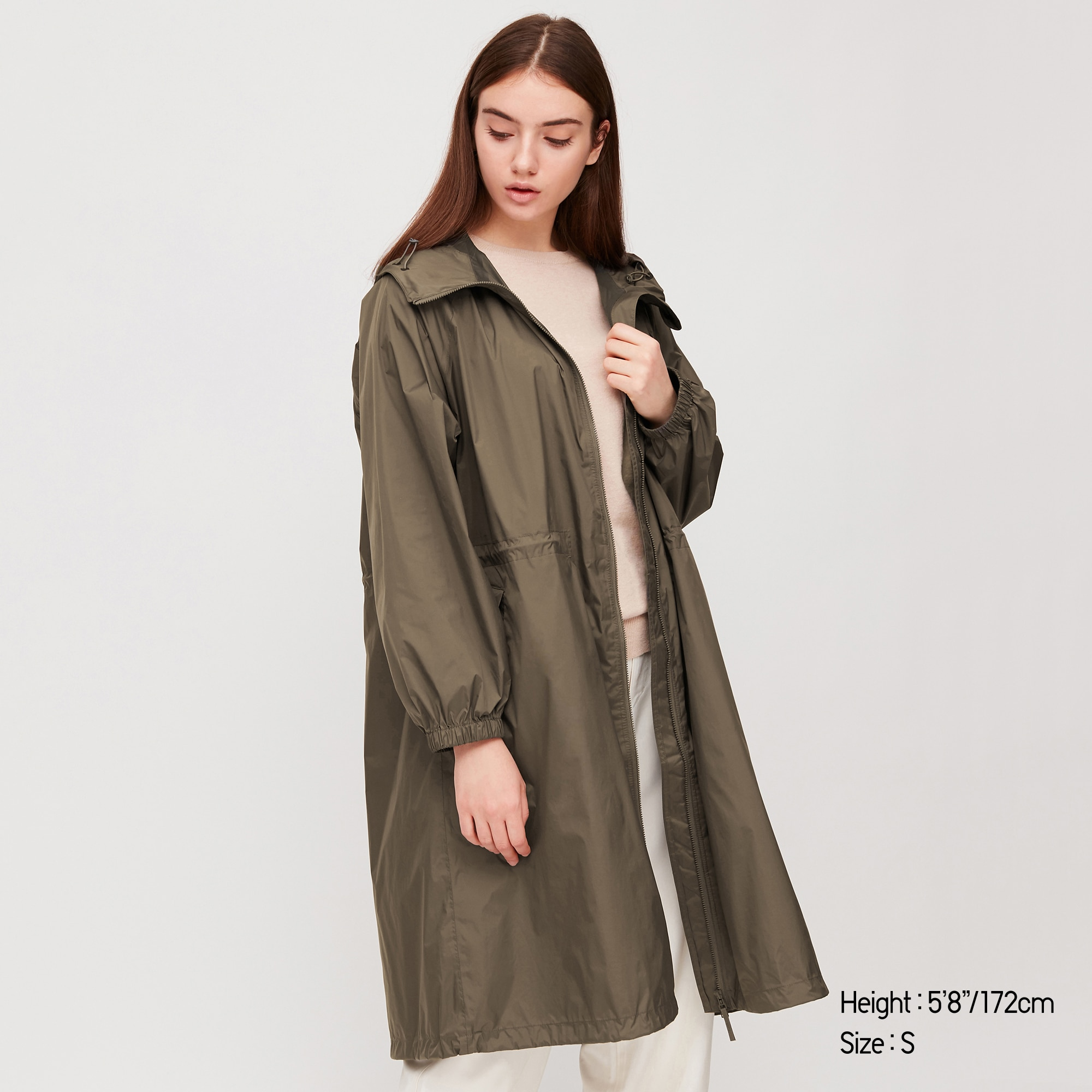 The windproof layer
This is your chance to get the fancy overcoat of your dreams! This very much depends on your life and your own sense of style, but you want something that's quite warm but not warm-warm, looks good enough to wear for the most formal thing you're likely to do, and will keep the wind off you. Depending on your personal style, this could be a leather jacket, an oversized blazer (if it's on the thicker side), a denim jacket, or a trench coat. The classic option is a good wool/wool-esque overcoat, like this £79 cocoon coat.
Your criteria for this item:
Can withstand light rain.
Pretty warm, but not very warm. If it's a really cold day, you'll layer your puffer or fleece underneath it. Again, fabric matters, and something with a lining will be warmer than something without one.
Slightly oversized so you can layer lots of things underneath it.
Get something that will co-ordinate with the rest of your wardrobe because you'll likely own just one coat for a long time. A neutral colour is safest for most people (black, camel or grey) but if your wardrobe is bright and you love patterns, then a wild coat might co-ordinate best with the rest of what you have. Get something that will make you feel fancy.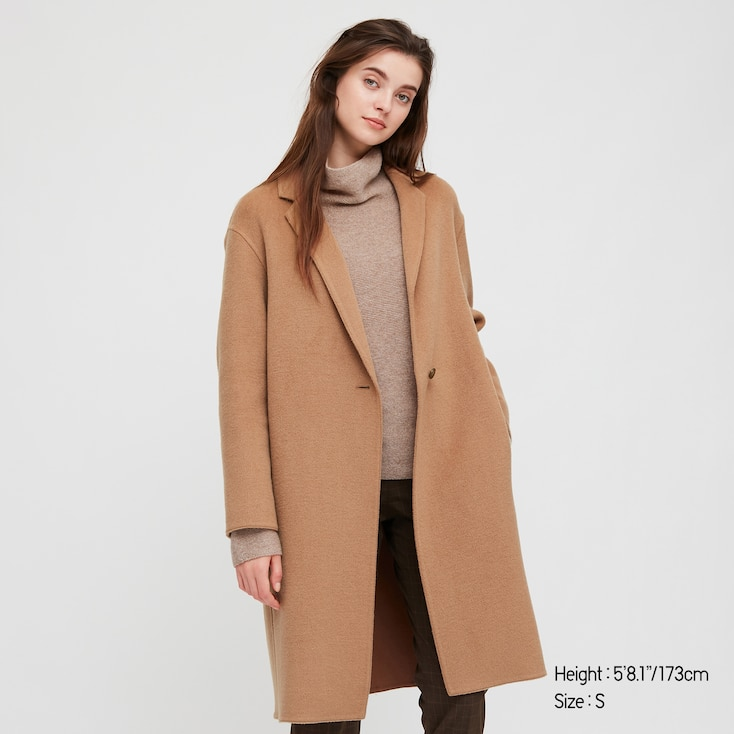 The warm layer
Here's the trick with this layer: you're looking for something warm, but also something that's not too thick, because you need to be able to wear this under your windproof or waterproof layers. Your two best options are either those black puffy jackets every single middle class dude seems to own or a thick fleece (this one is £19). Get the boring black one, because you will wear this with everything. This is the place to prioritise function over beauty: get something warm. I also recommend that this layer has a zipper or buttons, because that will maximise its layerability.
You could replace this layer with a thick-knit cardigan if that's more your style, but I don't find knits to be as warm as a good puffer, as cute as they are.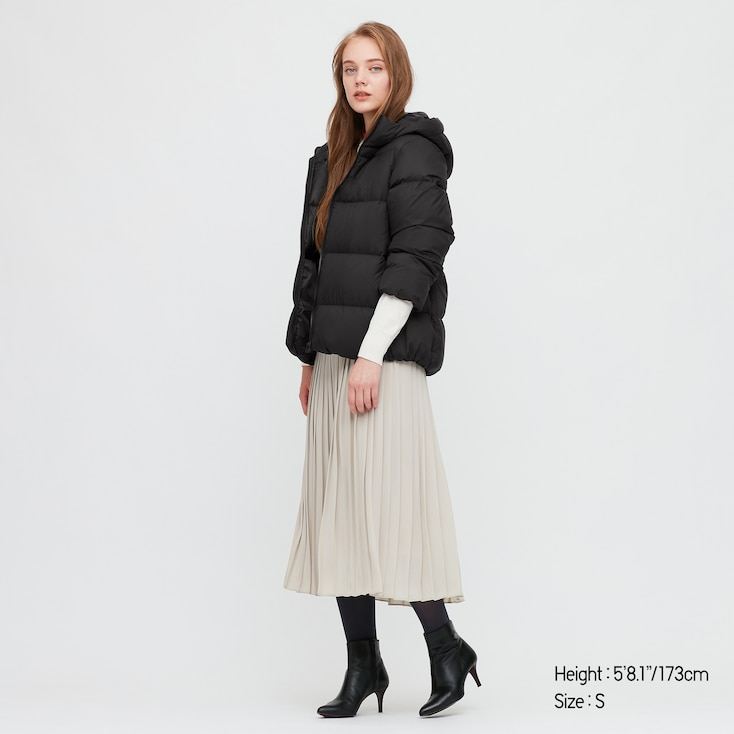 With these three outer layers, you can cope with any weather.
Cold and wet? Wear your warm layer under your waterproof layer.
Very cold + light rain/snow? Wear your warm layer under your windproof layer.
A bit chilly? Wear either your warm or windproof layer in isolation.
The good news about outer-layers? It's really easy to buy all of them second-hand, from any charity shop, or eBay, or from one of the second-hand clothing apps that are becoming really popular. These layers aren't on your skin, so it's not gross to buy them used, and they're durable items so you should be able to find things that are still in good condition.
Other outerwear you need
Your three coat strategy isn't the end of things. You also need to keep those extremities warm and dry! You do need:
One pair of boots that you can wear when it's raining. Depending on what you like, you could look at combat boots, Chelseas, or even a waterproof pair of sneakers. Don't go overboard worrying about gumboots, snowboots and stuff like that if you're in the UK. One pair of waterproof shoes is all you need.
It is worthwhile to get a cheap beanie or hat of some sort for the times when it's VERY cold.
Gloves are absolutely essential and cheap.
Get a scarf. I'm a fan of the very wide ones you can also wrap around yourself like a blanket around the house. I think they're called stoles?
Inner wear
Here's what I didn't realise before I lived here: your outer layers' jobs is mostly to keep the elements out. What's going to keep you warm are your inner layers. You want to work up to having one laundry-cycle's worth of each of these items, but you'll be fine with 2-3 of each to start.
Warm socks. Your thin cotton socks from back home are pointless, now. Get some THICK socks, like these thermal ones from Uniqlo. If you buy thick socks, then you can put off buying slippers for a while, and also avoid frostbite.
Some long-sleeved thermal tops that are thin enough for you to wear under your existing wardrobe. I love Uniqlo's Heattech range for this. Get a variety of different necklines: you can mix up regular long-sleeve t-shirts, ballet shirts and turtlenecks. Cotton, recycled synthetics or a thin wool knit will all work. Again, remember that these are layering pieces rather than standalone pieces, so get colours that will co-ordinate with what you already have.
Leggings. It's worth getting at least one super-warm pair for very cold days but regular cotton ones are fine for most days. You can wear these under your existing pants/skirts/shorts, but let's be honest, you can also just exist in them 24/7. If you like tights, thick tights are a fine alternative.
When you're at home, you will probably exist in a full-thermal outfit like a trendy ninja, and it feels great. Good thermal underlayers are great replacements for loungewear and pyjamas. When you're leaving the house, you just add some middle layers on top and throw on a jacket, and you're good.
Middle layers
Here's the good news: you really don't need to buy any middle layers to start out with. Just wear your existing wardrobe. Own lots of dresses? Wear them over thermal tops, leggings and socks, and throw a coat on top. You'll look elegant as heck. More of a shorts/t-shirts kinda person? Shorts over leggings with boots is a VIBE (especially cute denim cutoffs), and you can wear your thermal shirts by themselves on most occasions. A white button-up over a thermal turtleneck is a classic, and good thermal leggings will make even thin linen pants wearable through all but the coldest days. You already have the middle layers you need.
The only middle-layer item it is great to have is a cosy jumper. You really can get by with just one, because if you wear t-shirts/thermals underneath you can wear them many times before needing to wash them. There's nothing quite as cosy as mooching about in a good cable-knit and leggings, and the good news is that knitwear is PLENTIFUL at the charity shops.
What's not on the priority list
Loads of jumpers/hoodies/jackets/sweatshirts/long-sleeved dresses. With the good basics listed above, you can get by without adding a lot of bulk to your middle layer for quite a while (I'm a slut for a good hoodie, but start by building a good base layer wardrobe first).
Slippers. You can get by with warm socks for quite a while.
Warm fleece joggers. Great for lounging around the house or casual errands, but leggings are more versatile so invest in those first.
An umbrella. Of dubious value in England because rain usually seems to be coming at you sideways but they're cheap so you'll probably end up with one at some point anyway, and then constantly forget to bring it with you when you leave the house. It's more important to ensure that your waterproof layer has a hood.
Cardigans. They're useful for layering up indoors, but they're less warm than a thick fleece/puffer jacket.
A housecoat. Just walk around wrapped up in a blanket all day like I do.
Knee-length boots. Cute, but you're probably never going to step in a puddle that goes higher than your ankles.
Comparing shopping strategies
When considering a shopping strategy, there are three variables you could optimise for, and you're allowed to choose two of them: quick, cheap, and well-made. "Quick" here means "you can get everything you need from one shop" rather than potentially spending several hours finding a good deal.
Value quick + cheap? Go to Primark, but know that what you buy is unlikely to last very long or keep you very warm.
Value quick + well-made? Go to Uniqlo, Arket, Madewell or an outdoor brand like The North Face or Patagonia. You can get everything you need in one place, and your pieces will do a good job keeping you warm, but they're not cheap.
Value cheap + well-made? Buy second-hand. You can pick up some bargains, but it will take you some time to find what you want. This route has the extra advantage of being the most planet-friendly. Your best options are apps like Depop, Ebay (turn on the "buy it now" and "condition: used" filters) or your local charity shops.
Other big department stores like Marks & Spencer, H&M, Zara or Asos fall somewhere in the middle (quick + fairly cheap + fairly well-made). You could try the discount outlet TK Maxx (fairly cheap + well-made, but they might not have everything you need).
Assuming you need to build a cold-weather wardrobe completely from scratch, here's a sample budget for each of these strategies:
I've included a fleece option and a puffer jacket option for you, but this budget assumes you get the puffer.
My recommendation? Get thermal tops, socks and leggings new at the best price range you can afford, and buy everything else second hand (look for quality items that will last a long time). It's better for the planet, and the best value for money option you can find.
Stay cosy!
Are you a fellow warm-country to cold-country immigrant? What suggestions would you give other people making the same move? I'd love to hear from you. Moving's hard, so let's help other people going through the process.