Cosy October
Some games, films, books and music to keep your October feeling cosy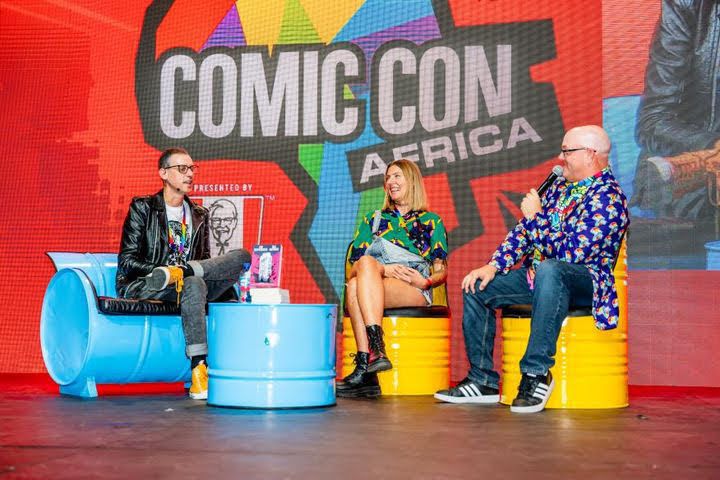 Hello buddies ❤️
I've just returned from a month in South Africa, spending time with loved ones (and - thrillingly - loved ones' babies!) and meeting as many readers as I could. Thank you, all of you who showed up at the events, panels and school visits - these chats/hugs/weeping-together-about-the-world were some of the highlights of my year.
I came back exhausted but thrilled to be back in London for Autumn, the crunchiest season. I've mostly been working on Snarltooth, teaching my creative writing classes at Bath Spa University, and putting some excellent things in my eyes and ears. Here are some cosy highlights!
Cosy sounds for your ears
Music I've had on repeat this week:
Abel Selaocoe's haunting new single "Voices of Bantu". I can also thoroughly recommend his virtuosic 2022 album Where Is Home (Hae ka Kae). Think township grooves plus cello, often accompanied by traditional Xhosa throat singing (umngqokolo) and body percussion. The effect is transcendent. Londoners, you can see him live at the Barbican over the next few months.
Air, a lush contemporary classical album by British music collective SAULT.
Javelin, which is Sufjan Stevens once again breaking my heart, this time with songs about romantic losses, like "Will Anybody Ever Love Me?" and "So You Are Tired".
Cosy films/tv shows for your eyes
Okay, neither of these are remotely cosy, but strong recommendations for:
Stop Making Sense, a filmed Talking Heads concert from 1984, recently remastered and re-released by A24. If you can, try to catch this in cinema: when I saw it, it quickly devolved into a dance party and the energy was electric. If you have no idea who Talking Heads are, they're basically art school disco music, their frontman David Byrne is like if Mr Bean was a legitimate genius, and Radiohead named themselves after one of their songs.
The Fall of the House of Usher, the perfect spooky TV show for October, available on Netflix. This is the latest from Mike Flanagan, my #1 horror director crush, the man who created Haunting of Hill House and Midnight Mass, and it's based on the works of Edgar Allen Poe. It's literary, gory, schlocky, clever, and superb fun ... all while taking a good poke at the Sacklers. Yes please.
Talking about movies, I was recently interviewed by the podcast The Video Store, and asked about the films which I loved the most at different parts of my life. My interview starts 22 minutes in.
Cosy reads for your brain
So, I'm in my late 30s and many of my friends are having babies, which means I have fully entered my AUNTIE ERA, and I'm bloody thrilled about it. I've always been quite certain I don't want to give birth to children, but I nonetheless adore kids, so the alloparenting auntie life is something I'm pretty hyped about.
My favourite recent read about parenthood is Anna Hartford's magnificent essay "Unfathomable Life" in The Yale Review about the impossible choices faced during fertility treatment:
Stepping into my fertility doctor's room for the first time ... felt not unlike stepping onto a treadmill that forever picked up speed and would never let me off. The doctor paged enthusiastically through booklets explaining tier upon tier of treatment options: ovulation inductions and inseminations and regimens of hormonal injections; tubal and uterine surgeries; in vitro fertilizations, in which sperm and egg cells are joined in a laboratory; genetic tests and analyses; donor eggs and donor sperm and surrogacy.
I had entered a place of branching choices and alternatives, of fierce debate and moral judgment and conflicting information, of endless recalculations of risks and benefits. My cherished notions of surrender and acceptance—with their convenient implications of innocence—soon gave way to a state of constant alertness, deliberation, anxiety, and research.
I haven't encountered anyone writing so thoughtfully about the choices and anxieties IVF prompts, but it's a piece that illuminates issues of relevance to all humans living in a world which increasingly resembles the 1997 film Gattaca.
A content warning on this one, there are explicit discussions of baby loss, so avoid if that's a sensitive topic for you right now. 💛 (Thanks, Charne, for the recommendation!)
Some other writing about parenting that I've loved recently are the novels Detransition Baby and The Argonauts, about creating queer families; Ann Patchett's marvellous essay about choosing to be childfree, "There Are No Children Here" in the collection These Precious Days; Patricia Lockwood's luminous novel about aunthood and children who die too young No One is Talking About This; and the 2023 Mencare report on "State of the World's Fathers".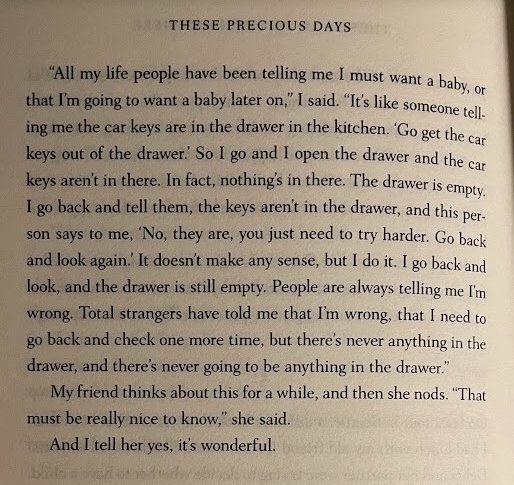 Do you have any suggestions for books and essays about fertility, parenthood, nonparenthood and (especially) auntiehood? Hit reply and let me know!
And lastly, a cosy game!
Are you into birdwatching? No? Okay, well give it twenty years and come back to me.
If you DO, then boy do I have a treat for you. My buddies Maya and Meg got me hooked on Birdle, a daily guessing game where you identify a South African bird.
I would like everyone to know that I got today's in ONE GUESS based solely on the call and it's the HIGHLIGHT of my WEEK. I'd love them to make one about UK birds so that I can learn their names but I think it would all just be pigeon, pigeon, pigeon, crow, pigeon based on what I've seen around London.
Wishing you cosiness, loving aunties, and sightings of the White-winged Flufftail (which is not today's bird, sorry)
Sam
---
Interviews & scribblings
Want more? Some recent interviews and articles I've published elsewhere:
A chat on the South African Ex-pats podcast about Moving to the UK
An incredibly fun chat about Girls of Little Hope with Speak to the Geek where Dale and I finally talk about all the spoilers!
A short essay about my lifelong commitment to overambitious DIY, in the latest Visi magazine (print edition)
A column in the November/December issue of Fairlady considering the costs of elderly care in South Africa