A peek at my work setup
Wanna geek out about tech with me?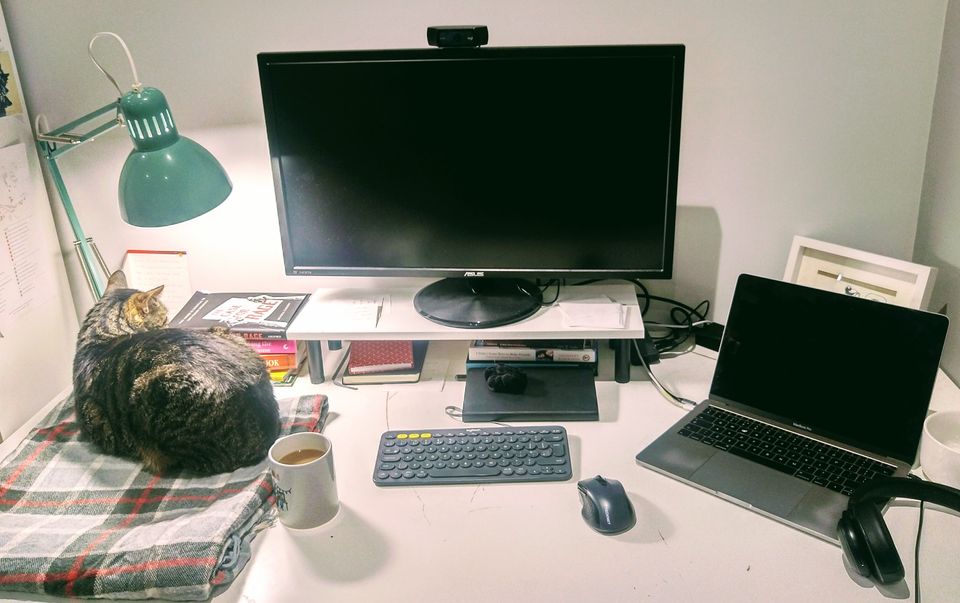 NOTE: Any links to Amazon are affiliate links, which means that I get a commission if you buy anything through these links. But these are all legit the products I chose because I like them.
My desk setup at home
From left to right:
Furry writing partner (essential).
Cat lamp. I think originally from Ikea?
A card from my friend Georgina which cheers me up every time I look at it.
Reference books for whatever project I'm working on currently. The one on top is Myisha Cherry's excellent The Case for Rage.
Screen raiser (made it out of a shelf and some height-adjustable furniture legs).
The ASUS VP280QG screen. It's good. I like it.
The Logitech C920 HD Pro Webcam. This thing's brilliant and I recorded all my course videos on it. I also have a Samson Q2U mic (stashed in the drawer) that I use for talks and podcasting. These two gadgets are all you need to record high-quality video and audio. I used to have a far more involved podcasting kit with a soundboard and pop filter and everything, but it's really not necessary for most home podcasters.
Liquid brown energy-sludge (I'm an extremely basic bitch so I live on Nescafe Gold Blend).
Logitech K380 Bluetooth keyboard. I LOVE this thing. You can switch between three different devices at the touch of a button, so I have it connected to my Mac, iPad and phone. It's super portable and comes with me everywhere.
Many notebooks. I'm currently using this Moleskine dupe with a Pilot Vball. Yes, that's a scrunchie on top SHHHHH.
A Technet Bluetooth Mouse. Not the prettiest thing, but it's reliable, cheap and comfortable.
(Hidden behind the screen) a giant USB C hub for all my gizmos.
(Hidden behind the laptop) an Anker charging dock which is mega helpful when I travel.
Macbook Pro. No idea what model. It's kak old.
(In the back corner) a Buffy the Vampire Slayer card my buddy Dale Halvorsen made for me, which reminds me to be brave and slay my demons.
JBL over-ear headphones. I find these mega-comfortable. I can wear them all day.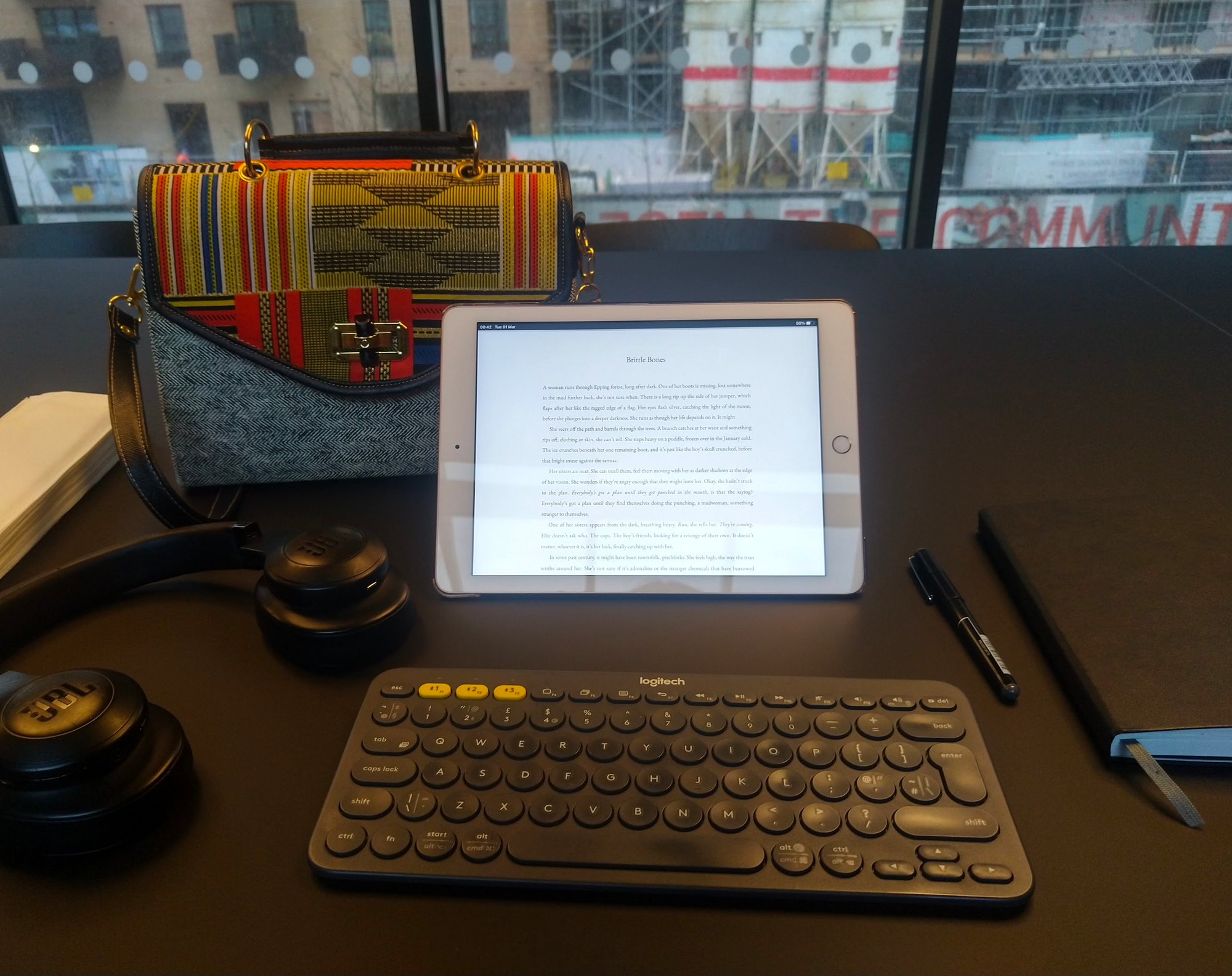 On-the-go
Instead of lugging my whole laptop around, I've been using this more minimal setup when I'm on the go, which all fits inside that cute little handbag.
Handbag is from Dr Pachanga, a gift from my beloved oldest friend Melanie.
iPad. Not sure what model. I have the iPad pencil, which is WONDERFUL if you ever do any digital drawing/sketching.
What are your favourite work-gadgets, friends? I'd love to hear.