Google Translate Telephone Poetry
Some silly poems created by playing telephone with Google Translate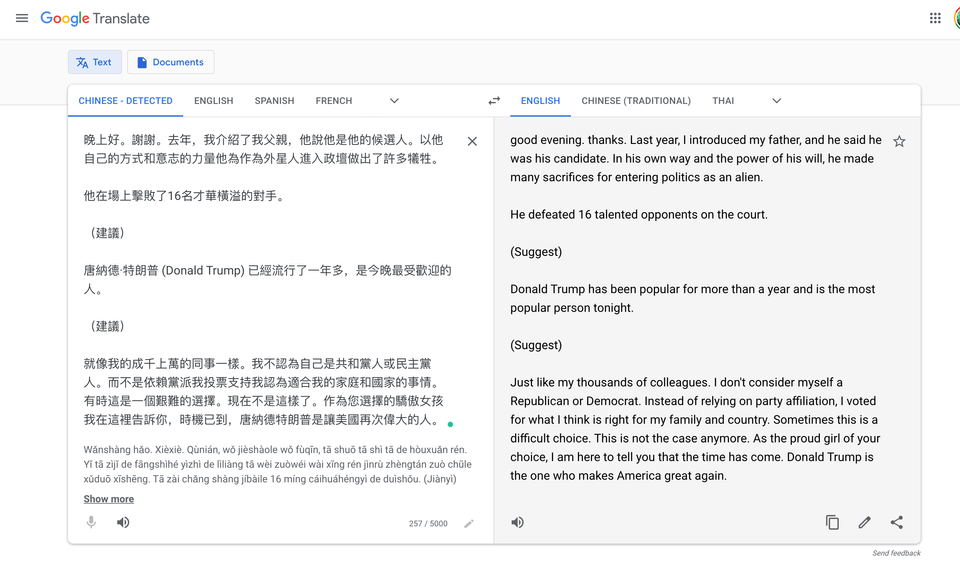 I fed some news articles through several different languages in Google Translate, and then back into English, creating a "broken-telephone" effect. You get some delightful gibberish if you pass a text through enough languages, which I then turned into poems.
I did not add or alter any words, but did remove words and change punctuation so stuff kind of made sense.
Apart from being good fun, I think translating a text between multiple languages can reveal the subtext, sometimes.
WE SO BIG

It may not be so lucky for this year's world,
which is what we inherit: the claim.
"Donald Trump does not feel small."
When I was young,
my father always told me that.
I thought he still said, "Ivanka,
strive to fulfill the commitment
to ruthlessness."
We will hit all the time, all the way.
(applause)
DEVELOPER: DONALD TRUMP
is the title from the Main Road.
That can be done.
See the disabled students,
graduated from high school,
who can not afford the family life of the Mother's Debt,
to resume work to raise the children.
Some politicians saw this unfairness.
You said, "I feel."
Only my father said, "I will fight for you."
(applause)
The men and women of this country
are trying to find out.
Hard and consistent.
It is honest and true.
Optimism and the United States.
Absolute believers.
Ask politicians.
Use the results to measure.
I ask you to judge me with the result.
Father of the industry!
No one is more at ease with the American people than my father.
You and your movie hero.
(applause)
You are ready to come back.
"Always speak for all women,"
He told me a long time ago.
I respected him my whole life.
Come on January 17th!
Everything is possible again.
We just hope, dream, want to win big.
The next president of the United States, Donald Trump,
and my father.
Based on Ivanka Trump's 2016 speech at the Republican Convention
The Place Where Being a Nuclear Waste Dump May Be a Good Option

Rust Belt State
60 percent of the desert, staring
into the abyss.

Keep the unemployment rate.
GM will close its plant
(more than 50 automakers)
when a third of the population has no function.

The Government decided the recession is shrinking,
and he looked at all of the country as a landfill,
– nuclear waste in the world –
even possible.

The State is the center of the continent.
The hard choices.

"They know that there is a crisis,
or even when it will come," said Trade.

"This is a laboratory that matters."

Based on this Bloomberg article

---
The Sensible Case for Totally Ignoring All the E-mails You Miss on Vacation

Less than a week in the summer,
Lake George lay in wait for him.
When he returned:
596 unread messages.
They are wasted. "This has been cleared."

There is no way to avoid wasting postage.

All these hundreds of millions of workers
are especially interesting news.

Work, production of hundreds,
empty,
unless you decide?

Why do you jump his absence,
even forever?

He went over Labor Day weekend.
After three days, the software people can email the footsteps,
depending on the location.

It's that simple.

Summer job, but do not worry.
Poverty is no input.
Maintain power.
A certain level of noise.

"We were able to respond,"
It's a flood, or a basic responsibility.

6:00 half-life,
when people sit announced in your inbox.
Avoiding it has some sense.

Based on this Bloomberg article
---
Isle of Man, Tax Haven with Tailless Cats, Becomes Bitcoin Hub

Everyone wonders how it is.
Cat background in the middle of the Irish Sea,
in the four corners of the stone and the good
and the Victorian engine
and TT national motorcycling men
and unknown risks,
and the best on the island.

Mercedes-Benz S-Class at the airport –
a place to take care of 70 minutes.

A woman waiting to meet with the audience:
Yes, well, well, the gray suit, Kate, my surprise.

Welcome to the growing field of digital cash.
Wikipedia arc taking London, New York
and San Francisco into account.
Union Jack minors and time capsule,
and I think that it looks like tomorrow.